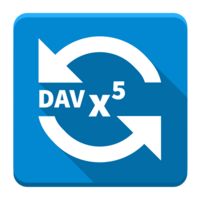 While DAVx⁵ itself is more or less a single-user program, Managed DAVx⁵ makes CalDAV (for calendars and task lists) and CardDAV (for address books) available on Android for organizations. It comes with additional enterprise features such as mass deployment, company branding and pre-configurable settings.
With a few clicks and within a few minutes, it is possible to supply thousands of Android devices with a pre-configured CalDAV/CardDAV solution.
Use CalDAV and CardDAV on your organization's Android devices
Integrates with your existing CalDAV / CardDAV infrastructure
Based on DAVx⁵, which has proven to be a stable CalDAV/CardDAV solution for years
Take a look at our Managed DAVx⁵ presentation folder (download) for a complete overview in PDF format.
Have a look at the different deployment methods.
Request a free test license, and get your quote.
Success Story
"I have rarely seen anything as straightforward as Managed DAVx⁵. Everything works flawlessly"