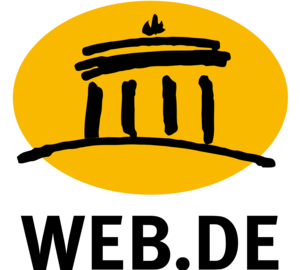 web.de is a German Internet portal which also provides an email service, address books and calendars.
Choose "Login with email address" and enter your web.de email address and password.
Password can be your web.de password; or if you use 2-factor authentication you have to generate an app-specific password and use this instead of your normal password
Contact group method: No CardDAV contact group support. Choose "per-contact categories" as contact group method to minimize problems.
Alternatively you can also split CardDAV and CalDAV into 2 accounts.
This can be useful if you use web.de with your own domain for example and/or your email address does not end with @web.de. For this please use Login with Base URL:
For CalDAV, use this base URL: https://caldav.web.de
For CardDAV, use this base URL: https://carddav.web.de
User name: your (web.de) email address
Password: your normal password, or your app-specific password if you use 2-factor auth (see above)

Contact group method: vCard contact groups are not supported. Choose the method used by your other clients or "per-contact categories" to minimize potential problems.
You can access your "web.de Online-Speicher" using the DAVx⁵ WebDAV mounts feature.
WebDAV URL: https://webdav.smartdrive.web.de
User name: your email address
Password: your password or your generated app password for Files/WebDAV (when app passwords are active for your account)
Hint: Videos can't be directly streamed due to a limitation of the server